Third-year students of the Bachelor's degree program "Sports Journalism and Media Communications in Sports" launched the TikTok-account dedicated to the Moscow shelter "Pechatniki". They aim to demonstrate the humane and responsible attitude to animals and prove that it is easy to help them.
Ekaterina Yamshchikova, Valeria Koryavchenkova, and Polina Borisova worked on the project within the course "Media projects in the field of physical culture, sports and healthy lifestyle". The project leader is Natalia Shved, Associate Professor at the MCU's Institute of Natural Sciences and Sports Technologies.
The videos present the routines of the shelter, show bright emotions and moments, reveal the volunteers' activities in a new way, and describe the ways to help animals.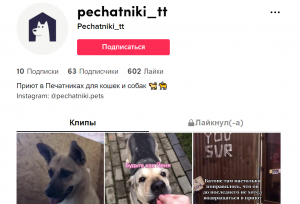 One of the important goals of creating the account is to prove that you should not be afraid to take pets from a shelter. The media project team talked to happy people who have adopted animals, and let them share the positive experience in a mini-interview. If you have already decided to adopt a cat or dog, please watch a series of videos "Your friend" on the shelter's official website. It is a great opportunity to get aсquainted with the dwellers of the "Pechatniki".
The member of the project team Ekaterina Yamshchikova told about how the idea of creating the media space came up and why the project team chose TikTok:
The idea of the project came up spontaneously. It is the case when educational purposes and our own inspiration have fitted together. Our team leader Natalia Gavrilovna suggested developing project activities in the sphere of charity. We responded to the idea and started developing the project. Firstly, our team took TikTok ironically. We didn't understand how progressive and convenient the platform was for brand promotion. By the way, I wasn't even registered there before the project started. The customer offered to take TikTok platform. We mastered the promotion and editing algorithms and launched the project account.
The shelter account is useful for potential owners and volunteers, as well as also for everyone who already has a furry friend, and loves animals.
Veterinarians, zoopsychologists, groomers and other specialists share useful tips and life hacks for the care of animals.
Subscribe the account and follow the updates.