On December 6, Business English third year students had a video-link with their peers from Nottingham University. Within an hour of skype communication students managed to cover lots of different topics. Among them were:

Student Life and Employment in England
Leadership Development Programme
CELTA opportunities for non-native speakers
Statistics concerning students' qualifications and employment 
Such video-link conversations have become a regular event due to the Tandem-Nottingham project run collaboratively by our lecturers Vladislav Alpatov & Irina Tverdokhlebova, and are always held in the atmosphere of great interest from students on both sides. Today's skype session was in a way special because of the relevance and importance of the topics for all the students who attended the event. Besides, it was a big attraction to meet Anastasya Nikolaeva, who is currently on her study trip to Nottingham. In preparation for the link Nastya conducted a field survey, finding out facts and figures about career opportunities for Nottingham university fourth year BA students. The conversation left much to think of for everyone.
Here is some feedback on what students think about Thursday event:
Anastasia Nikolaeva:
"It was my utmost pleasure to bring a bit of English culture into our Business English class. I was delighted to talk with my groupmates and share the knowledge and experience I have gained over here so far. It was also a dazzling opportunity to introduce Russian students to my English friend, making it an invaluable experience for her. I hope everyone has benefited from our conversation!"
Victoria Voronkova:
"Today we had a very interesting and useful experience for us as future professionals. We found out how different employment requirements in England and in Russia are, especially those that are connected with the teaching profession. I discovered a new opportunity for me such as CELTA qualification, that can broaden my field of activity. Thanks Nastya and Stacey for the teleconference, it was really great!"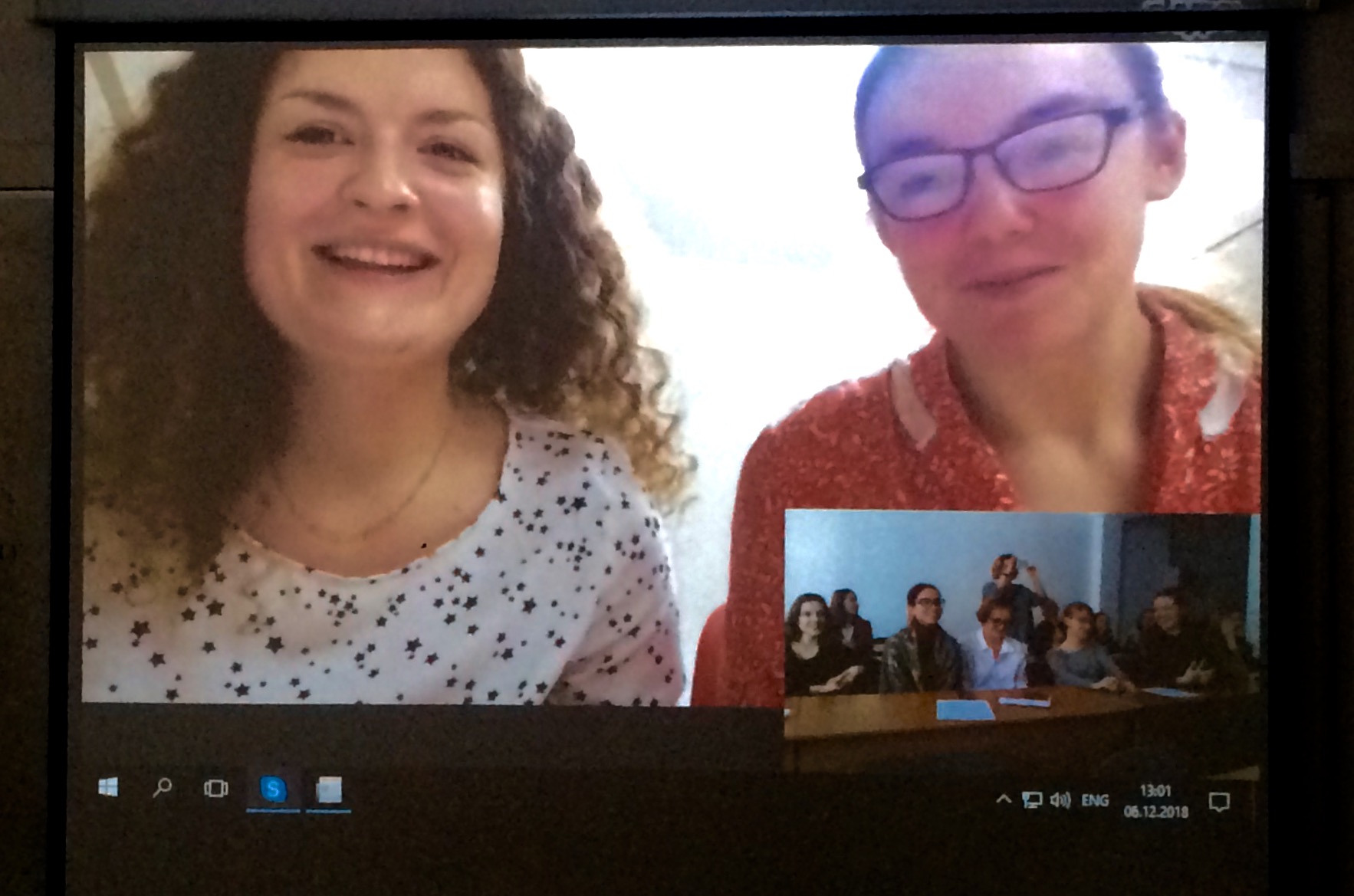 Daria Kudinova:
"The video-link conversation was very useful for all of us. The girls made us think not only about our current education in Russia but also about further education abroad. They told us a lot about students' life in the UK and it was fun to see how different we really are in our attitudes. Now I am really thinking about getting a master's degree somewhere in Great Britain as it seems a great opportunity for my future career."
Andrew Shubukin:
"I very much liked today's event. At first, it is always nice to see students from other countries and also talk to them. Secondly, the topic we discussed is important for us because many of our students seek to get education somewhere else. The girls told us about various problems they face in Nottingham so now we are aware of them and, perhaps, will succeed if happen to be in the United Kingdom one day."
Bella Kuznetsova:
"It was such an amazing experience to talk to our foreign fellows. The girls told us about some aspects which cannot be found in any textbook or article — it was all based on their first-hand experience! It is great that we had an opportunity to listen to a native speaker without any problems and talk to the girls about different things concerning Russian and British universities and higher education!"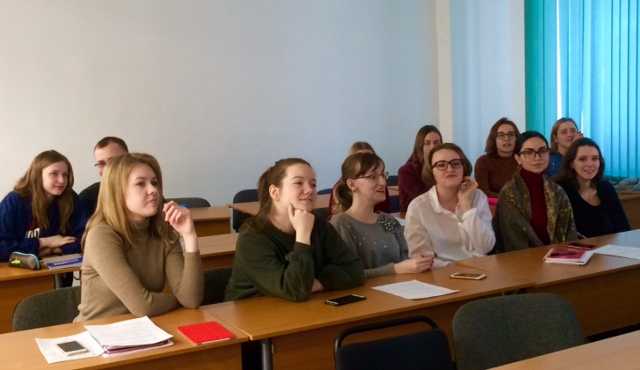 Ekaterina Lykova:
"Everything was excellent! The girls shared very useful information about their university with us. It was extremely interesting to hear the stories about their campus in particular. Besides, listening to a native speaker's speech was a pleasure. I hope this was not our last conversation."
Stacey Goundry:
"I liked Irina Petrovna! She seems really nice and very intelligent. Well, my impressions from the conversation today were that the class were engaged and interested in what we had to say, which we could see by them asking us questions and that the teacher was also clearly interested and by the end everyone was well informed on our topic."
Today's video-link communication was an excellent example of how important it is to communicate with people on an international level because this is the best way to widen students' knowledge as well as to enjoy such useful experience as talking shop to native-speaking peers.