On November 26, Moscow City University presented a report on the work of the university during 2021-2022 as part of the state Priority 2030 program.
MCU Rector Igor Remorenko, emphasized the importance of studying social and humanitarian practices.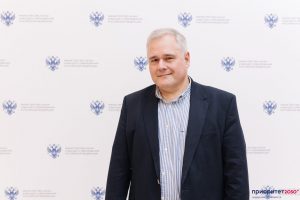 Igor Remorenko says:
Priority 2030 is a tool for understanding strategic fundamentals. It helped us define the essence of the university and the ways to reveal its potential. Our university attained new opportunities through the program. We developed a hybrid learning model that became in demand after the pandemic, involved more than 30,000 citizens in urban and public science projects, and created a series of digital simulators for the development of various competencies with partners from the consortium. We have attracted several dozen talented young researchers and lecturers from the regions. This potential creates the basis for the development of the university next year.
MCU development program involves the implementation of three strategic projects:
As a part of the Digital Didactics project, many research projects have been launched. Among them are projects such as Hybrid learning Models, Digital Competencies and Practices of secondary School teachers, Strategies for Students' Interaction with Digital Content, etc.
During the work on the project Urban Socio-humanitarian Practices, 7 research studies and projects on urban issues were implemented, and a center for sociocultural interaction between citizens and urban communities was created.
During the implementation of the project Integrated System of Evaluation of Learning Outcomes, the university held events on the development and pilot-testing of tools for assessing the communicative competencies of lecturers. Furthermore, an additional professional development program "Expert Evaluation of Professional Teacher's Competencies" was developed and pilot-tested.