MCU has won a World Bank's grant of providing expert services for the project "Modernization of the educational system in the Republic of Belarus".
MCU experts will develop scientific and methodological base for the advanced professional training program for school leaders "Creating classroom networks for teaching Physics, Chemistry, Biology and Computer science to ensure innovative learning". They will also provide scientific consulting services during the design of curricular documentation and teaching content.
On December 9, Sergey Lesin and Valentina Smelova, lecturers of the MCU's Institute of Lifelong Learning, and Yuriy Khripunov, a lecturer of Orel State University, visited the project platform. A school in the village of Vyazje in the Mogilev region will become a resource centre as a network of classrooms for teaching physics, chemistry, biology, and computer science. The purpose of this center is to enhance teaching quality, to advance the research potential by involving school students, to apply innovative academic approaches, such as STEM, project-based activities, olympiads, etc. The overriding priority of the centre is to become a resource platform for research and project-based activities of school students using the up-to-date training facilities.
School principal Valentina Grishanovich presented the school after the renovation, and showed the modern equipment that has become available to students.
It is planned to establish similar integrated classroom networks on the basis of village schools in 23 districts of the Mogilev region.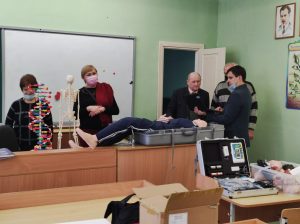 On December 10, the MCU representatives participated in the online meeting organized by The World Bank in Belarus, with the representatives of educational institutions of Belarussian district centres, including the Mogilev region and Vyazevskaya secondary school. During the meeting, the participants discussed the general expectations from the project results and the prospects of the project development, as well as the scientific and conceptual approaches and grounds.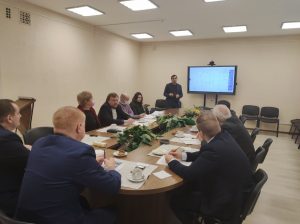 The MCU experts discussed the prospects of collaborative work with Igor Loshkevich, First Deputy of Head of the Main Department for Education of the Mogilev Regional Executive Committee, and colleagues from the Mogilev State Regional Institute for Education Development.