The newly established MCU hockey team entered its first championships. On February 14, the starting game was against the MSTU 2 team of Moscow State Technical University. Despite supporters watched the game online, MCU hockey players defeated the opponent 3—0.
Athletes showed a well-coordinated team play. Alexander Kruchenko, the team coach, commented on the game:
The team have coped with the game plan. They play the scheme we've been practicing. However, we have to continue to work hard. For instance, shooting percentage. Tonight we made 57 shots with only three of them reaching the goal. If we break a barrier — rather psychological — we'll be able to score more.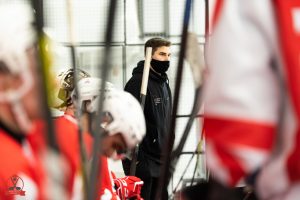 The next opponent is the MSAL team from Kutafin Moscow State Law University. The game is due on February 28. MCU hockey players work on their mistakes, improve team play, and study the opponent. The team trains twice a week at Spartak Academy Sports Complex and the MCU's Institute of Natural Sciences and Sports Technologies.
All the MCU games are streamed on the Track Hockey YouTube channel.